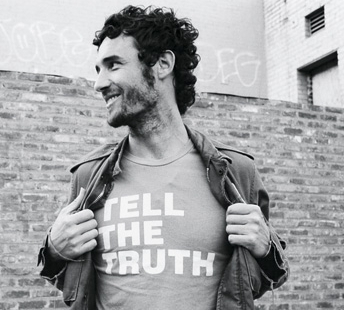 Unless it's the evil orphan-master asking where you're hiding the orphans, or something...
"I never imagined you could
Blow my theory apart
But now you're running away with my heart."
--Wilson Phillips
I've never been real interested in Nick Drake, but this new Alexi Murdoch is a slow still ringer for the guy, and it sounds really good. Similarly, a year ago I'd've never believed I'd end up digging a Chris Tomlin CD. It's all discussed over at the
Burnside Writers Collective
, along with Neil Diamond, Monotonix, Steel Magnolia, Weasel Walter/Mary Halvorson/Peter Evans, and Danielson. Here's the Murdoch review:
Alexi Murdoch
Towards the Sun
(Zero Summer)
The first two times I listened to
Towards the Sun
, I was doing other things: first folding laundry, then reading a bunch of Nick Drake reviews. It's a testament to Murdoch's solemn folkie power that both times I felt
guilty
about my fast-paced modern lifestyle. Next to Murdoch's contemplative stillness, puttering around the house feels like day trading or being Lady Gaga. True, his songwriting skill rewards even background listeners. The beautiful guitar chord he plays to confess his fear of dying; the pointed puns that open up the language of "Slow Revolution"; the epiphanal phrase "And all around the light" — all these things stop me. But sit still and devote 40 minutes of your life to hearing this music unfold, and it's like watching some patient natural phenomenon — a spider building a web, maybe, or rainwater rivulets subtly altering the contours of a ditch. When you take Murdoch's pace as your own, his slow revelations are even more arresting.
Oh! and here's the Best Thing I've Heard All Year:
Brett Dennen
"Sydney (I'll Come Running)"
Love overwhelms Law through sheer exuberance. The facts, ma'am: Brett's friend Sydney has been accused of a crime, evidently something pretty serious, and Brett promises to stand by Sydney no matter what. As soon as Brett makes that promise he realizes, maybe for the first time, how blessed and lucky he is to have Sydney for a friend. Eureka! Suddenly Brett finds himself driven to discourteous musical joy, a glorious groove he never dreamed he could hit, and he soars away with the song — insulting the gossipy soccer moms at the dog park, cutting through the airport customs line, patching together "allegations made in the schoolyard" from two different Paul Simon songs, offering to help shop for lawyers ("There's a lotta good people livin' in L.A."), but above all testifying testifying TESTIFYING.