If you're interested in year-end music lists, especially those made by people who heard pathetically few new albums over the course of the year, here's mine! Also, if you enjoy rambling specious comparisons between theological concepts and pop music, you've reached the right page, my friend. These ballots are always fun to do, so God bless the Village Voice for letting me continue. As a response to their grace, my New Year's resolution is to be a better rock critic in 2010. Off I go to download some darkwave promos!
With the exception of the Collin Raye song, all top 10 singles are Youtubable, but I'm too lazy to provide links right now. (You know how to use Youtube.) I've had the best luck with Collin's tune at
myspace
.
Singles
1. "I'm On a Boat"--The Lonely Island feat. T-Pain (Universal Republic)
2. "High Cost of Living"--Jamey Johnson (Mercury Nashville)
3. "Midlife Chrysler"--Collin Raye (Saguaro Road)
4. "Quiet Dog"--Mos Def (Downtown)
5. "New Wu"--Raekwon feat. Ghostface Killah and Method Man (ICEAL)
6. "2 Turntables and a Microphone"--DJ Crazy Toones feat. Kurupt (www.hardknock.tv)
7. "Don't Stop Believin'"--Glee Cast (Sony)
8. "Sidestep"--Robin Thicke (Interscope)
9. "Then"--Brad Paisley (Arista Nashville)
10. "On the Ocean"--K'Jon (Universal Republic)
Other good ones:
"Combination Pizza Hut and Taco Bell"--Das Racist
"Bang!"--the Raveonettes
"Nothing to Hide"--Yo La Tengo
"ABCs"--K'Naan feat. Chubb Rock
"Waving Flag"--K'Naan
"Dead and Gone"--TI feat. JT
"I Run to You"--Lady Antebellum
"Waking Up in Vegas"--Katy Perry
"Nothing to Worry About"--Peter Bjorn & John
"My Life Would Suck Without You"--Kelly Clarkson
"I Get Crazy"--Nicki Minaj feat. Lil' Wayne
"I Do Not Hook Up"--Kelly Clarkson
"Use Somebody"--Kings of Leon
Albums
1. K'Naan--
Troubadour
(A&M/Octone)
2. Maxwell--
BLACKsummer's Night
(Columbia)
3. Ata Ebtekar and the Iranian Orchestra for New Music--
Orientalism
(Sub Rosa)
4. Lightning Bolt--
Earthly Delights
(Load)
5. Yeah Yeah Yeahs--
It's Blitz!
(Interscope)
6. Bob Dylan--
Together Through Life
(Columbia)
7. Brad Paisley--
American Saturday Night
(Arista Nashville)
8. Cesium 137--
Identity
(Metropolis)
9. Raekwon--
Only Built 4 Cuban Linx II
(ICEAL)
10. U2--
No Line on the Horizon
(Interscope)
Hi, thanks for letting me vote, since I'm nobody's idea of a Gatekeeper. Demographia: 32, a straight white married American, and a stay-at-home father of one. Also, as a part-time Lutheran organist and choir director, I am very moved whenever I listen to "Welcome to the Future" and Brad Paisley proclaims, "Wake up Martin Luther!" Assuming we did awaken the crusading monk and noted anti-Semite, what would he have to say about The Year In Music 2009? Probably something dicey about Matisyahu--but then, who wouldn't?
Maybe he'd compare the Catholic Church to The Monoculture! Remember when Michael Jackson's death symbolized the Death of Monoculture? (
Results 1 - 10 of about 27,100 for "michael jackson" death monoculture
.) I'm not totally sure I understand this claim--how long has The Monoculture been dead, exactly? Did it just die in June? Was it still alive in 2001, when Jackson's last album came out? Or did it die sometime since 1991-2, when he could have reasonably been said to have a claim on EVERYONE? (Though maybe not as big a claim as niche artists Metallica, Garth Brooks, Pearl Jam, and Nirvana, all of whom have sold more copies of their 1991 albums, at least in the U.S.) Furthermore, if The Monoculture has been dying or dead for a while, why did we only start mourning it when its last living exponent kicked the bucket? I'm pretty sure we noticed its death before Jackson died, if we read the preface to
Christgau's Consumer Guide: Albums of the '90s
, published in 2000. ("Who can possibly believe that Madonna and the Wu-Tang Clan mean as much to the Culture at Large as the Beatles and Aretha Franklin?") So if we only started mourning at decade's end, how much could The Monoculture have actually meant to us?
If any musician had Monocultural reach, I suppose it was '80s Jackson. But by 2009, MJ and The MC had outlived their symbolic equivalence. Maybe the Black Eyed Peas or, yes, Madonna still deserve it. More likely, The Monoculture as symbol deserves to die. The cranky Protestant in me counters any claim on The Monoculture with Jimmy Guterman's sage comment from 1991's
The Worst Rock 'n' Roll Records of All Time
: "Rock and roll is but one small part of the music being made on this planet. Rockers who think they're changing the world are in fact only reaching a small part of it." (If you're put off by the rockist language, Guterman selected MJ's
Off the Wall
in his companion volume of
Best Rock 'n' Roll Records
.) My advice for trendwatchers: next time you're tempted to overstate the importance of The Monoculture, stop to consider the reach of Norman Borlaug, practitioner of a very different kind of monoculture. The agronomist, who died in September, won the 1970 Nobel Peace Prize and is estimated to have saved a billion lives through increased crop yields and large scale farming techniques. That's monoculture with
reach
.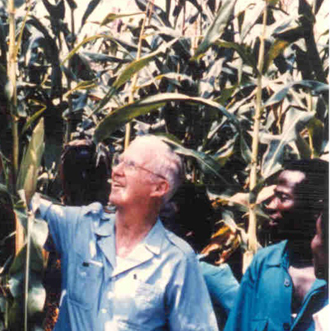 That said, I liked Jackson more than most other pop stars--probably more than I like the Catholic Church, now that I think of it. I can't think of another singer able to negotiate such rage and beauty within a single song--and in plenty of his songs, within a single line ("DIRTY DIANA! Nooo...."). Forget "crazy," forget "rich," even forget "entertainer" and "influence." They may be true, but they smack of faint praise. This guy was one of the great MUSICIANS of the past century. We're talking Stravinsky, Armstrong, Ornette, Beatles territory. (As a vocal arranger of multitracked Michaels, he's an unsung studio hero.) The fact that he was able to communicate to unimaginably huge audiences with stuff that was as claustrophobic and violent as lots of black metal only rarefies his music even more.
Ultimately, though, the only size audience I care about is me. I'm sure you all have the same impulse. That's the Protestantism rearing its head again--screw the papacy, I'll worship however (whoever?) I want! It's no accident that Protestantism has inevitably led to "niche" religions, even within Lutheranism. The self-hating Missouri Synod Lutherans = doom metal, the woman-hating Wisconsin Synod Lutherans = black metal, while my beloved Evangelical Lutheran Church in America = power metal. We're happy and we fight dragons! Plus, as of August, gay people can preach and get married. And fight dragons. (If they want--we don't
make
them or anything.)
I guess the "point" I'm dancing around (and was trying to avoid "making") is this: just as the breakdown of Catholicism wasn't really a breakdown because Catholicism still exists, and just as the breakoffs from Catholicism inevitably led to a boutique culture within Protestantism--so the breakdown of The Musical Monoculture wasn't really a breakdown because the Black Eyed Peas still exist, and so the breakoffs from Said Monoculture have inevitably led to the boutique culture that Christgau identified back in 2000, if not earlier.* The interesting aspect of all this is that both impulses, Protestant and Catholic, still exist, always have and always will--we only like what we like, but we still want to see the consensus. If your Protestant nature totally wins, you're probably not voting in the poll. If your Catholic nature takes over, you probably scored the top Critical Alignment rating, and everyone knows those dudes are LAAAAME.
I fear I'm making the classic critic's mistake of equating Pazz and Jop with The Monoculture. Sure,
Thriller
won, but so did TV on the Radio's
Dear Science
. Like, who actually listens to
Dear Science
? Among people I regularly talk to, Susan Boyle is far more important. So is Brad Paisley. And like Martin Luther, like MLK, like most sane people who accomplish anything, Paisley's a dreamer and a realist, which is why his vision of a modern American Saturday Night is a union of the niches. (A very consumer-driven union, too--his multicultural title song reads like a Google Products search.) However popular, though, Paisley's not The Monoculture. He's a niche, too--just one with more crossover appeal than TVOTR.
Speaking of crossover appeal, the local Hot AC station became integrated this year! I mean, they'd played "Hey Ya" and "No One" before, but this was the first time I heard actual
black people rapping
on 101.9 "The Mix." We're talking a station that had previously left Lil' Wayne and TI verses on the cutting room floor. Now they play the Peas (who doesn't?), but also the Weezy verse of Jay Sean's "Down," and "Empire State of Mind." That one blew me away. Aging fans of Bon Jovi and Vertical Horizon must finally be ready for Jay-Z!
I digress.
Most Protestants still value their gatekeepers, be they pastors, bishops, teachers or whoever. Our worship is our own, but it's nice to have people in charge who know what they're talking about just the same--WHICH LEADS ME TO MY BRIGHT IDEA FOR FUTURE POLLS. Have everyone list the gatekeeper who introduced them to their favorite music. That'd give us a nice sense of how the industry operates and who the most influential critics are, about which I'm sure everybody's curious. Here, I'll start:
"I'm On a Boat"--Chuck Eddy via Rhapsody
"High Cost of Living"--Chuck via ilx, library
"Midlife Chrysler"--Chuck via ilx (I swear I'm not a sycophant.) (Actually, I think I first heard this on some mysterious country station in Rolla, MO, this past summer. Haven't heard it on the radio since.)
"Quiet Dog"--KDHX (St. Louis community radio)
"New Wu" and
OB4CLII
--media blitz, previous fandom
"2 Turntables"--KDHX
"Don't Stop Believin'"--TV
"Sidestep"--Chuck via LiveJournal
"Then" and
American Saturday Night
--media blitz, library
"On the Ocean"--WGCI (Chicago R&B radio)
K'Naan--Chuck via ilx
Maxwell--Borders promo, previous fandom
Ata Ebtekar--Scott Seward via ilx
Lightning Bolt--previous fandom
Yeah Yeah Yeahs--media blitz, library
Dylan--Borders promo, previous fandom
Cesium 137--Metropolis promo, previous fandom (Note that this is the only item on my list that came directly to me as a promo. Metropolis is my only promo provider. Boo hoo.)
U2--Borders promo, previous fandom
With the Borders well dried up (I quit in August), who knows how I'll hear music next year? Library CDs and darkwave in 2010!
Despite my stodgier demography, I think this is the first time I've ever voted for three artists whose names rhyme--K'Naan, K'Jon, and Raekwon. (Of course, pointing this out may just reinforce the stodge.) No Jay Sean, though, and I'm still awaiting the J-Kwon comeback. Oh wait--Wikipedia tells me it happened this year and I missed it. Youtubing (at church) as we speak... The lyric "J-Kwon back--WHAT?!" seems about right. Yeah, this "I Smacked Nikki" thing is way stodgier than even my sorry attempts at rhyming.
Speaking of stodge, how about that Neko Case CD?
If I want a song cycle that grapples with nature and gets me in touch with my chthonic urges, I'll listen to Germans. Schubert's piano/vocal
Winterreise
has more variety, and Mahler's
Kindertotenlieder
(
Songs on the Death of Children
) has more feel-good moments. I would maybe buy Case's maneater claim if she didn't sing "surprised, -prised, -prised" the
exact same way
in every chorus of "People Got a Lotta Nerve." As it is, I feel like I can predict her every move, and would thus be able to escape her attempts to eat me. Frankly, there's an alarming shortage of people on my list that I believe could eat me. Maybe the girl from
Glee
. But even Lightning Bolt are more comforting than threatening at this point.
I'd apologize for running out of steam and leaving you with half-baked ideas, but that assumes the presence of steam and ideas to begin with. So anyway, keep up the good work and may your health insurance not screw you over.
*My parallel between Catholic/Protestant and Monoculture/Niche Culture breaks down in a couple important respects. Catholicism is (theoretically) completely hierarchical, whereas The (theoretical) Monoculture is at least partly driven by consensus and consumer choice. Untouchable record label honchos may be responsible for 90% of what we hear, but even they can't make us like what we don't like. It's not like pop stars are ordained by God, no matter what they might say while accepting Grammys. And while Protestantism represents a more direct relationship with God, which resonates when discussing Niche Culture--nobody's force-feeding you this music, and maybe you even know the artists--it also represents a rejection of idolatry, which means the elevation of something temporal to the status of an absolute. Temporal things could include golden calves, money, the Bible, or your own opinion. Absolute things include God. So it's sort of perverse to say the Protestant Principle is making me vote for Ata Ebtekar instead of the Peas. If anything, the Protestant Principle should be telling me, "Christgau and Rosen are voting for the Peas, you think you know any better?" Or, "In the grand scheme of things, what does it matter whether Ebtekar's better than the Peas?" Or, "Why don't you go become an agronomist and feed starving people?"