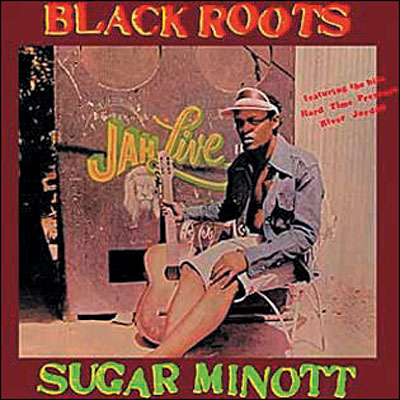 Sugar Minott
worked three different reggae styles in the late '70s/early '80s, and actually originated one of 'em--studio dancehall. After starting a singing career in 1969, he spent about a decade doing roots reggae, like
"Mr. Babylon Man"
from 1979's
Black Roots
album. It's a simple plea for the agents of Babylon to leave him and his Rasta brothers (and sisters?) alone:
Around that same time, Minott started innovating. Working as a session instrumentalist at the fabled Studio One in Kingston ("the Motown of Jamaica"), Minott and his boss discovered that Minott had a knack for singing original tunes over the tracks of other songs. Now, before he started singing, Minott had come up through the sound systems of Jamaica, where DJs would spin records and audiences would party. Since 1970, some of the DJs (notably U-Roy) would toast along with the records they played, rhythmically exhorting people to Get Up On It and whatnot. (New York's pioneering hip-hop DJ Kool Herc came out of this scene, so we have these guys to thank for much of today's pop radio.) U-Roy had recorded his toasting act in studios, but Minott was arguably the first to sing new songs over existing riddims. Throw in some very
au courant
synth drums, and you've got the sound that'd be known as "dancehall." Here's
"Rough Ole Life (Babylon)"
, a 1983-ish (maybe) track based on one of the most popular Jamaican riddims, the "M-16":
These riddims make up a unique oral culture in Jamaican reggae music. (Somebody, probably not me, needs to write a comprehensive study of the relationship between all the songs based on the same riddims.) U-Roy himself used the M-16 in the late '60s, for the song
"Scandal"
--you can hear the difference between his toasting style and Minott's singing style, over what I BELIEVE is a Sly & Robbie rhythm track.
Minott's third style was the lover's rock reggae of England, where he lived for a bit in the '80s. I don't think any Babylon songs came out of that period, but
this Michael Jackson cover
sure did!
As you can hear, the guy was smooth whether he was singing love songs or raging gently against the machine. His anti-Babylon stance was one of faithful presence and quiet resistance. At the end of "Rough Ole Life," starvation and jubilation coexist, and Minott seemed to accept that duality as the lot of Jah's follower, working inside Babylon system.